There comes a time when less becomes more. Minimalists know this too well. The same applies to gaming keyboards: a compact gaming keyboard also comes with its fair share of benefits. These kinds of keyboards often lack a 10-keypad as well as other features.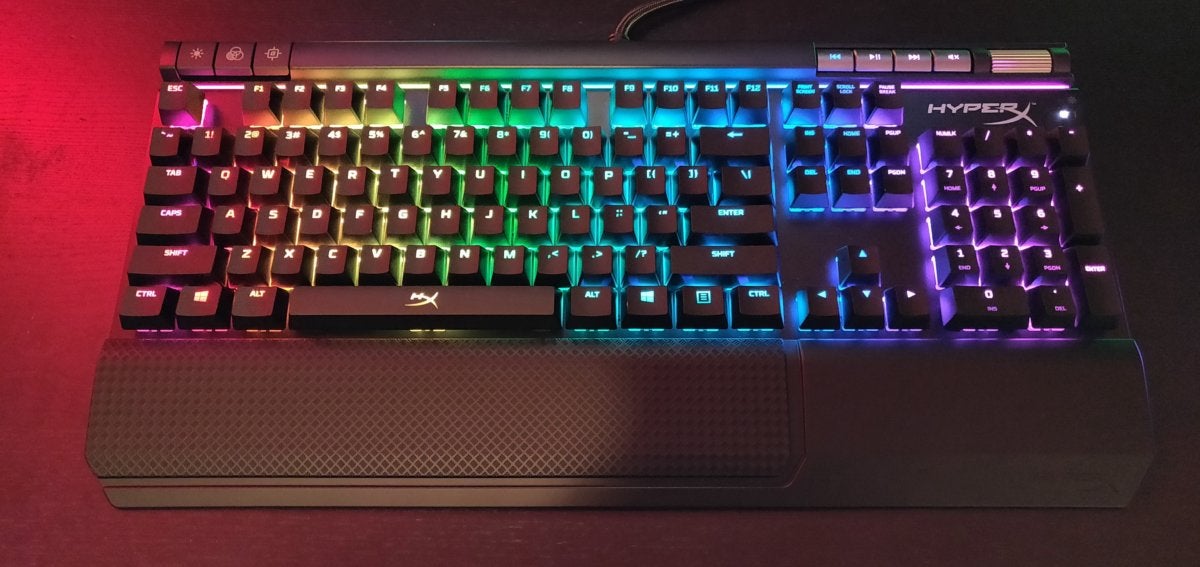 The HyperX Alloy Elite RGB tops the list of best compact gaming keyboards. It comes with a wide range of features as well as superior build quality that overwhelms the competition. From custom key mapping with macro capability to custom RGB backlighting to the comfortable wrist rest, the keyboard makes a bold statement. It's packed with all the gaming centric features, including the various Cherry MX offerings as well as full-size keys that can easily be swapped for desired custom keys.
The game mode comes with anti-ghosting and N-Key Rollover functions to allow for enhancement of input accuracy. The incorporated steel frame makes the keyboard sturdy and enhances its durability.
The board's onboard memory is capable of storing a significant number of pre-sets for key mapping for custom color and key mapping profiles.
The Corsair K65 is the compact version of Corsair K70. In addition to eliminating 10 keypads, the keyboard manufacturer Corsair also went ahead to introduce a full-length, removable wide wrist rest. This makes it easy for one to use the keyboard on a gaming desk or on their laps.
The keyboard is available in up to three versions, including the RGB-based version included herein. This makes it easier for the users to acquire the keyboard at various price points. The drawback with all the models, however, is they don't feature onboard memory — which helps to store profiles — hence it's difficult for users to move around with their customized profiles.
The Corsair K65 features Cherry Red switches for each keycap. There's also the option to go for Cherry Speed. This makes it a top choice for gaming enthusiasts as well as fast typists. The keyboard comes with full-key rollover as well as anti-ghosting function. This feature allows the user to press several keys without worrying about some failing. Additional features include customizable LED backlighting, as well as dedicated media controls, key brightness toggles, and Windows lock button.
Razer Blackwidow X Tournament
The BlackWidow X Tournament is the compact alternative to the BlackWidow X. It's built with Razer's Green switch, and requires an actuation force of about 50g. The board is characterized by a medium feel as well as an audible click.
One of its most striking features is its military-grade metal frame. This helps to massively enhance the keyboard's durability, making it a good choice for intense gaming tasks. It comes with more than 16 million customizable color options.
Cooler Master Masterkeys Pro S
This keyboard offers the user a significant number of Cherry MX options. The preferred choice can be made out of the available Cherry Red, Brown, or Blue. It's more or less similar to the K65 in terms of build quality as well as other features. The incorporated metal plate offers it an extremely sturdy feel for both typing and gaming tasks.
On-the-fly setting adjustments help to expand the compact keyboard's functionality, given it lacks several buttons, including the ten-key pad. It enables the user to carry out adjustment settings without troublesome software suits. All preferences can be adjusted on the board. These include recording macros, switching profiles, setting up profiles, and more. Furthermore, the included onboard memory makes it easy to save macros and custom profiles, a convenience that comes in handy while on the go.
The keyboard features a detachable micro-USB cable, which is easily replaceable and is great for storage functions. One drawback is the absence of a USB pass-through, though this is a minor issue.
Final Words
Picking up a compact gaming keyboard could equip one with an unimaginable level of convenience. In addition to being light and compact, the keyboard is also reasonably portable. Be sure to visit keyboard reviews azspecialoffers to acquire more insights about the best compact gaming keyboards.